Essential Oil quality is important in Aromatherapy because substandard oils often contain ingredients that render the oil less effective or result in adverse skin reactions.
Massage & Whole Body Health uses only Therapeutic Grade, Pure, Organic Essential oils from Young Living
Treat Stress with Aromatherapy Massageposted:1/8/2013
by Jacqueline Bloom and Debbie Guzzi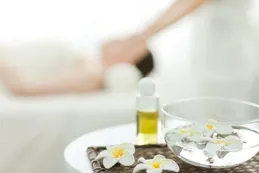 Treatment involves determining a client's stressors, physical, mental and emotional. Stress can lead to an emotional and physical breakdown. Many clients seek massage for stress relief on these levels.
Recommended essential oils for stress
Roman chamomile (chamaemelum nobile): calming, sedative, antispasmodic
Neroli (citrus aurantium v amara): antidepressant, calming, neurotonic
Juniper (juniperus communis fruct): analgesic, digestive
Lavender (lavandula angustifolia): analgesic, anti-inflammatory, neurontonic
Rosemary (rosmarinus officinalis): analgesic, anti-inflammatory, carminative, digestive, stimulant to adrenals
Recommended dilution
1 ounce of carrier/base oil, such as apricot kernel or sweet almond oil
Add 5 drops of each above essential oil to the carrier.
Recommended application
Massage a small amount or rub into the neck, shoulders, stiff joints, muscles, back and feet
To treat emotional stress, use aromas that are pleasing to your clients to create a soothing memory response. A person's stress response is often a result of perceptions that exceed the personal inner and social resources to cope with a situation. The two types of stressors are external, such as pain or fluctuating temperatures, or stressful emotional environments, such as dysfunctional relationships. Internal stressors are prolonged, tense reactions to a situation. When this happens, a person is unable to mobilize the ability to manage a situation effectively. As a result, the person will experience disturbances to the body or mind, which can contribute to physical injury, disease, deprivation and emotional imbalance.
Stress can also be manifested physically, usually postural. Massage can help soothe and release stressed muscles through effleurage, petrissage and percussive techniques. The deeper types of therapy work well for issues that primarily originate from overuse of a muscle. If the stress to the musculature is caused by psychological or emotional issues, the massage, in most cases, would be light using such techniques as gentle rocking, jostling and the long, broad strokes of effleurage. A few hands-on modalities that work well for emotional and psychological stress include: amma, lomilomi, lymphatic drainage and Swedish massage.
Though massage can help soothe and release stressed muscles, the issues will return unless the underlying behaviors are corrected.
Using aromatherapy with essential oils on a full-body massage can be beneficial to relieve stress-related symptoms. Combining the healing properties of scent with touch will aid the client in balancing the body's natural tendencies toward healing.
Jacqueline Bloom is a licensed clinical social worker with more than 20 years of experience, and maintains a private practice in New York and Connecticut. She teaches certification courses on aromatherapy with the East West School of Aromatic and Herbal Studies. Also, she incorporates aromatherapy applications of essential oils in psychotherapy, when appropriate with clients, as an adjunct to primary treatment for emotional issues, stress-related problems, depression, attention deficit hyperactivity disorder, anxiety and mood disorders. She is certified in Chinese Medicine: 5 Elemental Treatment Theory with Gems and Stones, and medical aromatherapy and dietary therapy.
Deborah Guzzi is a graduate of the Connecticut School for Massage Therapy. She supplemented her training in Swedish massage with classes in chakra balancing, and polarity therapy, as well as Master Level Usui Reiki.
Research Exclusive: Aromatherapy Massage Reduces Symptoms of Menopause
Menopausal symptoms were significantly reduced among women who received aromatherapy massage once a week for eight weeks, a recent study showed.
"Aromatherapy Massage Affects Menopausal Symptoms in Korean Climacteric Women: A Pilot-Controlled Clinical Trial" involved 52 climacteric, or menopausal, women. The women were randomly assigned to an aromatherapy massage group or an age-matched, wait-list control group.
The 25 subjects in the massage group received one 30-minute aromatherapy massage per week for eight weeks. The 27 women assigned to the control group continued their typical daily routines with no treatment.
Participants ranged in age from 45 to 54 years old. Each had an endometrial thickness of less than 6 millimeters and no history of dysplasia or cervical cancer.
Aromatherapy massage was provided to the women in the aromatherapy massage group at the same time and on the same day each week. It involved the use of lavender, rose geranium, rose and jasmine essential oils, along with diluted almond and evening primrose oil.
The massage employed moderate-pressure effleurage strokes in the shape of a flat diamond across the abdomen. This was followed by gentle kneading at the left and right of the waist and then stroking across the abdomen. Slow, smooth and continuous massage strokes also were applied to the back and arms. A cushion was placed under each subject's knees in order to relax the abdomen.
Kupperman's 11 item menopausal index was used to measure menopausal symptoms among the women both before and after eight weeks of aromatherapy massage or control period. The 11 symptoms assessed by this numerical index are hot flushes, paresthesia, insomnia, nervousness, melancholia, vertigo, weakness, arthralgia or myalgia, headache, palpitations and formication.
Across all categories of menopausal symptoms, the research revealed lower mean scores among the aromatherapy massage group as compared to the control group following the eight-week experiment.
Within the aromatherapy massage group, hot flushes, paresthesia and melancholia were reduced significantly after eight weeks of massage when compared with baseline scores. The melancholia scores increased significantly in the control group. The researchers recommend further study to determine whether it was the aromatherapy, massage or combination of both that achieved such results.
"In this study, subjects who received an aromatherapy massage once a week for eight weeks showed a greater reduction in menopausal symptoms than those in the control group," stated the study's authors. "More specifically, aromatherapy massage improved hot flushes, depression and pain in climacteric women."
Source: Department of Nursing, Department of Obstetrics & Gynecology, School of Medicine, Eulji University, Daejoh, South Korea; and Center for Integrative Medicine, Institute of Medical Science, Wonkwang University, Iksan, South Korea.
Authors: Myung-Haeng Hur, Yun Seok Yang and Myeong Soo Lee. Originally published in Evidence-based Complementary and Alternative Medicine, July, 2007.